MicW uses unique methods to produce its capsules, the heart of a microphone, resulting in better performance, reliability, sound definition, and transparency. MicW capsule diaphragms are made from titanium, nickel, stainless steel, and polymer composites so that the best material is always used in its designs. In addition, carefully selected quartz insulating material within the construction ensures stability against high temperatures and humidity. Each capsule is individually calibrated using the free field method according to IEC 61049 measurement microphone standards and aged in an environmental chamber for long term stability.
iGO X-Y Stereo Microphone shown here with the shock mount and USB cable
The iGoMicTM X-Y Stereo mic comprises an X-Y stereo-matched pair of microphone capsules specially designed for GoPro cameras. Using a matched pair with capsules configured at 90º X-Y coincident, the iGoMic provides a wide stereo image with natural depth and is ideal for recording music, sports events and ambient sound. It is small, lightweight and rugged. It also can be used with DSLR and video cameras.
iGoPro Live Test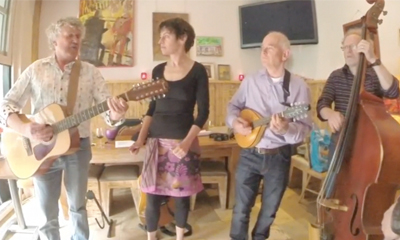 The recording was made in Maastricht, Holland at the 8th Alex Batta Festival in April. The performing choir is MusaMosa, an ensemble who's specialised in Italian songs. The video was shot with the GoPro Hero 3+ and the iGoMic.

The audio and video is raw without any editing.
---